For many people who use a computer, knowing where to store growing amounts of data can become tricky.
You start off with one disk, run out of space, buy a bigger one etc. And if you have a camcorder you'll be generating gigabytes of data for every Mini DV tape you record. Also, you may have a digital video recorder attached to your TV and wish to permanently keep some of the programmes/films you've recorded. Now you're talking hundreds of gigabytes, if not terabytes of storage that are required to handle all this data.
And then there's the problem of backups… oh boy, this will be a fun project 🙂

Here's a series of articles that tackle this tricky subject, where I describe the choices I made, the problems encountered and the solutions found during my quest to build my own ZFS home fileserver, or ZFS home NAS box (network attached storage).
A quote from Paul Venezia, InfoWorld: (click the picture to go to the full InfoWorld article)
It's not every day that the computer industry delivers the level of innovation found in Sun's ZFS. The fluidity, the malleability, and the scalability of ZFS far surpass any file system available now on any platform. More and more advances in the science of IT are based on simply multiplying the status quo. ZFS breaks all the rules here, and it arrives in an amazingly well-thought-out and nicely implemented solution.

We're talking about a file system that can address 256 quadrillion zettabytes of storage, and that can handle a maximum file size of 16 exabytes. For reference, a zettabyte is equal to one billion terabytes. In order to bend your mind around what ZFS is and what it can do, you need to toss out just about everything you know about file systems and start over.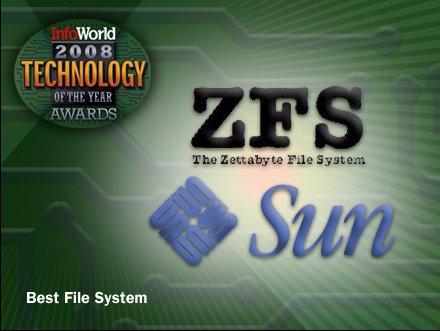 For more ZFS Home Fileserver articles see the following categories: ZFS, Storage, Fileservers, NAS.