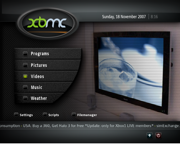 The long-awaited Shuttle XS35 series of small form factor (SFF) PCs has finally arrived, after a long release delay caused by cooling problems.
For home media center (HTPC) enthusiasts, this series of computers is ideal for making a media center because they are completely silent, due to the fact that the case houses no fans. Instead, the model range use a combination of (1) a massive heat sink and (2) holes in the case to dissipate generated heat.
For the media center enthusiast, half of the model range is of particular interest: the models that include second generation NVidia ION GPU hardware. According to NVidia, this ION hardware provides over 10 times the performance of integrated graphics, and significantly reduces CPU load. This enables the XS35's integrated dual-core Atom D510 processor to run at between 5% to 10% CPU load when watching 1080p HD video content. That is impressive!

Additionally, the computer uses extremely low amounts of power due to use of the Intel Atom processor and associated chipset. The power supply is a small external 40W power brick (FSP040-RAC). It outputs 19V, and uses 0.5W in standby mode. In operation, the XS35GT uses between about 20W and 30W of power.
The size of the device is another marvell: 25.2cm x 16.2cm x 3.84cm. Tiny! The box isn't a lot bigger than a paperback book, or around A5 paper size. Due to the device's tiny size, conservative design and the fact that it is completely silent, you can forget that you have a powerful media center in your living room and, instead, just enjoy watching slideshows of your photos, movies, documentaries, TV shows or rock videos. And listening to your music too.
Also, it has built-in wired and wireless networking. The wired network is a 100Mbit/s interface, which has sufficient bandwidth even for streaming 1080p HD Blu-ray streams, so DVD MPEG2, DivX and XVid is no problem at all. You would need a GbE link (1 Gigabit/second) if you intended storing movies on the HTPC's hard drive, and so for streaming this is irrelevant, thus 100Mbit/s for the wired network is completely adequate.
The ION-based computers have HDMI + VGA video output ports and have several USB ports (see photos below).
Here is an overview of the ION-based models:
| Model name | Type | Operating System | Memory | Hard disk | DVD R/W |
| --- | --- | --- | --- | --- | --- |
| XS35GT | Barebone | – | – | – | – |
| XS35GT-804 | System | – | 2GB DDR2 | 500GB | Yes |
| XS3510MA | System | Win 7 Home Premium | 2GB DDR2 | 500GB | Yes |
As I wanted to customize my media center, I bought the XS35GT barebone model. This reduces the price considerably, as you are not paying for (1) a slim DVD reader, (2) a hard drive, (3) memory and (4) an operating system like Windows.
To the base XS35GT model, I added a low-cost SSD that has TRIM support, the OCZ Onyx 32GB SSD, and 2GB Kingston PC2-6400 RAM (KVR800D2S6/2G).
For almost the same money, another SSD to consider using is the OCZ Vertex 30GB, which has been around a while and has about double the read and write performance as the Onyx drive. I wish I'd seen its new, greatly reduced price before buying the Onyx. Never mind, the speed of the Onyx SSD is still stunning. When a media center is being used purely to stream media content from a NAS, local storage capacity needs are not great, so a 30GB SSD is adequate. I saw someone buy an OCZ Vertex 2 60GB drive for his media center, and while this is currently about the best consumer MLC-based SSD on the market, with phenomenally fast read and write speeds, it is just a waste of money for a media center that will perform almost as well with an SSD that is half the cost.
Installing the memory and SSD is very simple: unscrew one crosshead screw, slide off the side panel, insert RAM module, insert SSD and screw in the retaining metal plate for the SSD, replace side panel and the screw. Done.
The SSD enables you to keep the media center completely silent, which is important when watching movies, as you don't want a noisy fan to spoil the experience, especially during quiet parts of movies. The SSD also minimises heat output. They are also very fast, making for fast boot times and responsive user interface. As XBMC in Library mode displays lots of images, these load super-fast with an SSD due to the typically less than 0.1ms seek time, compared to about 10ms for a typical HDD.
This media center configuration with the SSD gives a highly-responsive user interface compared to the old XBOX I was previously running XBMC on, especially when running XBMC in Library mode, where it uses a local database held on HDD/SSD to contain metadata about movies, music, photos etc.
Additionally, I purchased a Hauppauge MCE remote control kit which includes (1) a remote control, (2) an IR receiver, and (3) an IR blaster, as this works out of the box with the excellent XBMC media center software, as it is certified MCE compatible. Simply plug in the IR receiver unit, a tiny black box with a USB connector, into one of the XS35GT's five USB ports, and you now have remote control functionality. Of course, you could also plug in a USB keyboard instead, or in addition to a remote control.
The version of XBMC I installed is XBMC Dharma beta 2 Live, which is basically a reduced footprint version of Ubuntu Linux customised to run XBMC on startup.
XBMC Live is a free Ubuntu-based Linux distribution with XBMC for Linux already installed and pre-configured, providing a complete packaged media center software suite for all IA-32/x86-based personal computers. XBMC Live uses XBMC Media Center for all media playback and is implemented as a bootable Live CD primarily designed for bare-metal installations to achieve 'instant on' type boot, as well as for interactive demonstrations.
The optimal way to use media centers like this, is to stream your media library over the LAN from your NAS, using SMB/CIFS or NFS shares, for example.
After considerable testing of the XS35GT, I can confirm that this machine is superb as a media center, and an excellent buy for anyone looking to upgrade or purchase a small but powerful silent computer for use as a media center / HTPC.
As the XS35GT is passively cooled, for heat dissipation it relies completely on its massive heatsink and holes in its case. Therefore, it is important to mount the box on the stand provided, to enable effective cooling.
Prices for the above hardware are approximately as follows:
* XS35GT (£200)
* 2GB RAM (£30)
* 32GB SSD (£50)
* MCE remote (£20)
So for about £300 (350 euros, 400 US dollars) you can make yourself a powerful, tiny and silent media center.
In this next post, I describe the software configuration and tuning I used to make this thing work optimally.
Here are some images of the XS35GT, plus additional images of XBMC and some add-ons used (listed above):